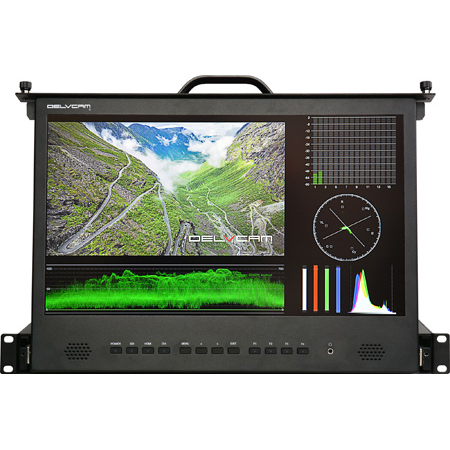 Delvcam DELV-3GHD-17RD 17.3 inch 1RU Rack Drawer 3G-SDI Video Monitor with Cross Conversion
The Delvcam DELV-3GHD-17RD 17" rack drawer monitoring system is destined to become the central nervous system of your studio and production environments. Its built-in HDMI-SDI cross conversion is perfect for KVM system integration while the built-in audio metering and vector scope will simplify camera setups. The DELV-3GHD-17RD can be mounted in fly-packs or directly in your studio or truck racks and stows away as quickly as a laptop.
The DELV-3GHD-17RD boasts a crisp 17.3" IPS display panel with 1920x1080 resolution. The rear panel has host of inputs including 3G-SDI BNC, DVI, HDMI and Tally making it a perfect fit for any broadcast or live event production. For added stow-and-go convenience, the unit has an auto-power-down function when the monitor is folded shut into the drawer. The drawer front also houses captive screws to secure the monitor during transport when used in mobile environments.
Features:
1RU Pull Out Drawer Monitor
HDMI-SDI Cross Conversion & Vector Scope
Embedded Audiometer
Back Rail Adjustable to Rack
Rack Mountable or Stand Alone
4 Adjustable Function Buttons
Space Saving & Portable with Handle
Automatic Power Shut Off in Drawer Position
Metal Housing Protection
Full HD Resolution
Tally Interface
Specifications:
Screen: 17.3" IPS
Resolution: 1920x1080
Brightness: 300cd/m²
Aspect Ratio: 16:9
Contrast: 700:1
Viewing Angles: 178°/ 178° H/V
Input: 3G-SDI, HDMI, DVI, Audio (L/R), Tally
Output: 3G-SDI, HDMI
Compatibility: SDI A, SDI B limited to1080i60
Audio: 2 Speakers, Earphone Jack
Current: 2.8A
Input Voltage: 15VDC
Power Consumption: 32W
Operating Temperature: -20°C ~ 60°C (-4°F ~ 140°F)
Storage Temperature: -30°C ~ 70°C (-22°F ~158°F)
Dimensions:19x1.73x19.98in/ 482.5x44x507.5mm
Weight: 18.96 lb/8.6kg

Special Functions
Picture: Brightness, Contrast, Saturation, Tint, Sharpness, Color Temp, Red Gain, Green Gain
Marker: Center, Aspect, Safety, Marker Color, Marker Mat, Thickness
Function: Scan, Aspect, Underscan, H/V Delay, Check Field, Zoom, Freeze, DSLR
Waveform: Peaking, Peaking Color, Peaking Level, False Color, Exposure, Exposure Level, Histogram
Audio: Volume, Level Meter, Audio Channel
System: HDMI/SDI Convert, Color Bar, OSD Time, Backlight, Fan, Reset
Item Includes:
15VDC Power Cable, Tally Connector
Warranty: